Trade in Health Services in South Asia: Opportunities and Challenges
February 19, 2016

As part of the project India-Pakistan Track II Initiative: Improving Trade in Health Services, a stakeholders' consultation workshop on 'Trade in Health Services in South Asia: Opportunities and Challenges' was organised by ICRIER on February 19, 2016 in collaboration with ASSOCHAM at New Delhi. The objective of this consultative workshop was to share the initial findings of the study with stakeholders and get their feedback to improve the research design and successfully complete the study. Presentations focused on the current status of trade in health services, impediments to trade, and strategies to be pursued for enhancing trade in medical value travel, pharmaceuticals and medical equipment between the two countries. The key stakeholders present at the consultation included representatives from the department of commerce, services export promotion council, ministry of external affairs, representatives from hospitals and the pharmaceutical industry.
India and Pakistan through Attari Rail Route
12 November 2014
Amritsar, India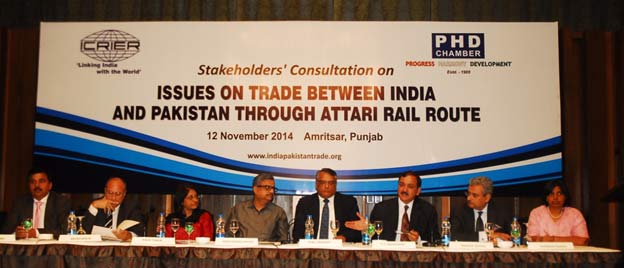 ICRIER, in collaboration with PHD Chamber of Commerce and Industry, hosted a stakeholders' consultation on "Issues on Trade between India and Pakistan through Attari Rail Route" at Amritsar on 12 November 2014.
Available data indicates that there has been a steep decline in the share of cargo moved by rail from 30% in 2004-05 to 8% in 2013-14. The impediments faced by traders on this transport mode have remained unattended for several years since the issues are complex and require horizontal coordination between different ministries as well as vertical coordination within ministries and their departments.
With ICRIER's initiative, for the first time, senior representatives from the Ministry of Commerce, Land Port Authority of India, Railway Board and Central Board of Excise and Customs were present at one platform for a dialogue with business persons.
The notable participants from the government included -
Mr. Manoj Krishna Akhouri (Executive Director, Traffic Transportation, Railway Board, and Director CRWC)
Mr. Arvind Mehta (Joint Secretary, Ministry of Commerce and Industry)
Mr. Sunil Sawhney (Commissioner Customs, Amritsar)
Mr. Y.S. Shahrawat (Chairman, Land Port Authority of India)

Two well known business persons - Mr. Pardeep Sehgal (Partner, Sinochem Impex, Amritsar and Vice-President, Indian Importers Association) and Mr. Rajdeep Singh Uppal (Director, Narain Eximp Corporation, Amritsar) took the lead in highlighting the issues faced by traders.
Stakeholders' Consultation on Enhancing India-Pakistan Trade: Prospects of Opening the Hussainiwala trade route
5 September 2014
Ferozepur, Punjab (India)
A meeting of stakeholders involved in India-Pakistan Trade was organized on 5 September 2014 at Ferozepur, Punjab in India. Given the importance of alternative trade routes for increasing bilateral trade; the idea behind this consultation was to bridge the information gap between traders and policy makers and to examine the feasibility of opening up the Hussainiwala - Ganda Singh Wala land border for enhancing trade between India and Pakistan.
A major railway line connecting India and Pakistan was laid between Peshawar and Bombay, but this service was discontinued once the Hussainiwala border was closed after the India-Pakistan War of 1971. Hussainiwala border is the nearest border in the Ferozepur district, being just about 10 km away from Pakistan. However, most traders in Ferozepur use either the Wagah - Attari land border or the Mumbai – Karachi sea route to trade with Pakistan, thereby bearing high transportation costs. It is a matter of constructing a connecting bridge across the Sutlej River to reconnect the railway link between Hussainiwala and Ganda Singh Wala for trade and transport. An ICP at Hussainiwala would help decongest the ICP at Attari which is currently handling trade beyond its capacity.
The panellists included Dr. Nisha Taneja, Professor, ICRIER; Mr. N C Goyal, Divisional Railway Manager, Northern Railway; Mr. Gurnaib Singh Brar, former MLA; Mr. Satpal Bajaj, Senior Vice President, Ferozepur Traders Association; Mr. Ravi Kant Gupta, Chairman, Devraj Group; Mr. Anirudh Gupta, Correspondent, CEO DCM Group of Schools; Mr. Inder Singh Gogia, President, NGOs Ferozepur Unit and Mr. Afaq Hussain, Director, BRIEF, Delhi.
Consultation on Automobile Trade
22 August 2014
Lahore, Pakistan
A meeting of key stakeholders in the auto sector of India and Pakistan was organized on 22 August 2014 at Lahore. The meeting brought together participants from Automotive Component Manufacturers Association of India (ACMA) and the Pakistan Association of Automotive Parts and Accessories Manufacturers (PAAPAM). The objective of the meeting was to exchange views on the potential of automobile trade between India and Pakistan; understand the apprehensions of the automotive parts manufacturers in Pakistan; and develop a common understanding of the way forward, including the scope for joint ventures. ACMA and PAAPAM signed a Memorandum of Understanding (MoU) for strengthening business ties, facilitating exchange of information and people to people contact, and trade and cooperation in the automotive sector between India and Pakistan.
The delegation from ACMA was headed by Mr. Harish Lakshman, President ACMA and MD, Rane TRW Steering Systems Ltd. He was accompanied by Mr. Vinnie Mehta, Director General, and Ms. Subhag Naqvi, Deputy Executive Director from ACMA. The PAAPAM side was led by Mr. Usman Aslam Malik, Chairman PAAPAM and Chairman Kor Tech Auto Industries Pvt. Ltd, and Mr. Suhail P. Ahmed, Vice Chairman, House of Habib and Founder Chairman, PAAPAM. The ICRIER team was led by Dr. Nisha Taneja, Professor and Leader of the ICRIER Project, and a well known expert on India-Pakistan trade.
Interaction with Senior Journalists from Pakistan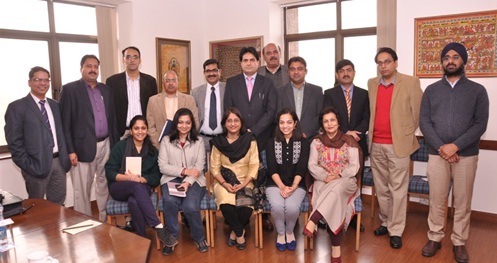 30 January 2014
New Delhi
ICRIER hosted a delegation of senior editors/ journalists of leading news agencies from Pakistan for a briefing of the project on "Strengthening Research and Promoting Multi-level Dialogue for Trade Normalisation between India and Pakistan" and a discussion on the current issues of India-Pakistan trade. Dr. Nisha Taneja, Project leader and Professor, ICRIER briefed the delegation on the changing trade relations over the years and the recent developments on trade normalization between India and Pakistan. This was followed by questions from the journalists and a discussion on building closer ties between the two countries.  
Stakeholder Consultation "India and Pakistan Textile Sectors: Tapping the Trade Potential"
19 August 2013
Surat

A stakeholder consultation was organized by ICRIER in collaboration with the South Gujarat Chambers of Commerce and Industry and New Textile Market, Surat, on "India and Pakistan Textile Sectors: Tapping the Trade Potential". The panelists included Jagat Shah, Founder & Chairman, Global Network, Ahmedabad; Nisha Taneja, Professor, ICRIER; Kamlesh Yagnik, President, South Gujarat Chambers of Commerce and Industry; Asok Jain, President, New Textile Market; Devkishan Manghani, Chairman, New Textile Market and Afaq Hussain, BRIEF, Delhi. The idea behind this consultation was to bridge the information gap between traders and policy makers and to examine problems faced by textile traders while trading with Pakistan.

ICRIER team leads discussions with Mumbai traders

November 20-21, 2012
Mumbai

On the November 20-21, 2012, the ICRIER team held consultations with export manufacturers and traders based in Mumbai to understand the obstacles to trading with Pakistan from Mumbai. The team met with delegates from the Bombay Chambers of Commerce who expressed great interest in trading with Pakistan while highlighting the problems associated with trade via the sea route.

Stakeholder consultations in Amritsar

October 9-10, 2012
Amritsar
The ICRIER team visited Amritsar to understand the infrastructural and procedural impediments at border crossings at Wagah and Attari. The team met with customs officials, traders, Custom House Agents (CHAs) and freight forwarders based in Amritsar to assess the impact of recent measures undertaken by the two countries to facilitate trade across the land border.

Stakeholder Meeting on Enhancing India Pakistan Trade

September 24, 2012
Srinagar

ICRIER organised a stakeholders' consultation on September 24, 2012 in Srinagar on Enhancing India Pakistan trade. The objective of the stakeholders' consultation was to provide a platform for academics, government agencies and traders engaged in cross-border trade at the LoC (Line of Control) to discuss prospects and challenges to LoC trade. The panellists at the forum included Dr. Nisha Taneja, Professor, ICRIER; Mr. G A Khwaja (District Development Commissioner, Baramulla); Mr. Hilal Ahmad (General Secretary Salamabad-Chokote Cross LoC Traders Association); Mr. Khatana (Assistant commissioner J&K, Customs and Central Excise Division, Srinagar) and Mr. Nazir Ahmed Shakaree (General Secretary, Federation Chambers of Industries Kashmir and member of J&K Joint Chamber of Commerce & Industry). The discussion was moderated by Dr. Saon Ray. Traders engaged in LoC trade, who participated actively in the question and answer session, attended the session. The meet, which was the first to be held since LoC trade was formally initiated in 2008, offered stakeholders an opportunity to discuss issues relating to such trade and hence, was widely appreciated by the panellists and participants.

ICRIER team visits Pakistan

September 8-15, 2012
ICRIER team visited Pakistan from September 8 to 15, 2012. The visit was to meet with representatives from academic/research institutions, chambers of commerce and government to inform them about ICRIER's project on India Pakistan trade and seek collaboration on various aspects of the project. During the visit, the team had meetings with the Lahore University of Management Studies, Institute of Business Administration, Sustainable Policy Development Institute, Pakistan Institute of Legislative Development and Transparency, Lahore Chambers of Commerce and Industry, Karachi Chambers of Commerce and Industry, Pakistan Business Council, Federation of Pakistan Chambers of Commerce and Industry, SAARC Chambers of Commerce and Industry, Ministry of Commerce, Ministry of Industry, Ministry of Water and Power, Board of Investment, Engineering Development Board, Trade Development Authority of Pakistan and National Tariff Commission.