Lecture: Issues in the Pakistan Economy by Dr S. Akbar Zaidi, Professor, Columbia University, New York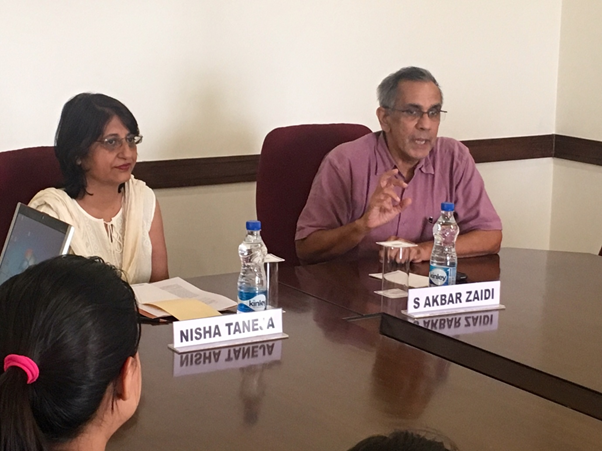 June 28, 2016
ICRIER, India Habitat Centre, New Delhi
Dr S. Akbar Zaidi, an eminent political economist from Pakistan and also a professor at Columbia University, New York, since 2010, delivered a speech on issues in the Pakistan economy at ICRIER on 28th June, 2016. With Pakistan experiencing GDP growth rate of about 4.5% in 2014-15, the highest in recent times, Dr Zaidi seemed hopeful about the sustainability and efficacy of the ruling government. According to him, there has also been a balance between the civilians and military of late and the overall attitude towards India has softened. With regards to Pakistan's obligations towards the IMF, Dr Zaidi said that the country has undertaken 18 programs under the international organization but only one has been completed till date. Considering the fact that less than 1 per cent of the population pays taxes and the tax to GDP ratio is less than 10 per cent, the IMF programs have indeed been a stabilizing factor. However Dr Zaidi admitted that the tightly managed macroeconomic framework due to much dependence on the IMF has been a major impediment to long run growth prospects of the Pakistan economy. The one-hour session saw the illustrious economist present certain stylized facts about Pakistan's political economy and how it has been affected by changes over time. According to Dr Zaidi, the driving force behind Pakistan's economic growth has been remittances from the Gulf States, which constitute around 9 per cent of the country's gross domestic product. While urbanization in the country is close to 60 to 65 per cent, this has mainly been brought about by rural places acquiring the characteristics of a city. With the declining share of agriculture in the country's GDP, 61 per cent of income in rural areas is from non-agricultural activities. Also women have been observed to dominate higher education with 55% of the people in higher education being ladies. The renowned economist however seemed skeptical about the certainty and sustainability of the China Pakistan economic corridor. Though it is widely believed Pakistan will reap much benefits out of the project, he concluded by saying that there has been much lack of transparency about its progress.
Lecture: Normalizing India-Pakistan Trade Relations by Zafar Mahmood, Former Commerce Secretary of Pakistan and Dr. Rahul Khullar, Former Commerce Secretary of India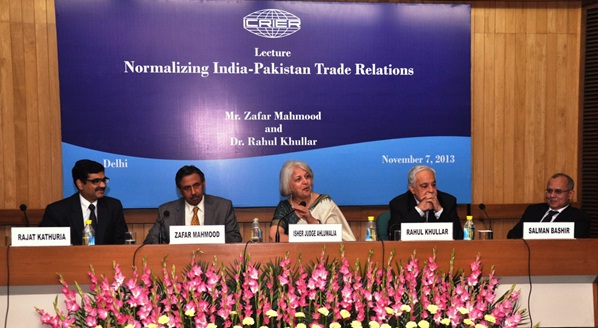 November 7, 2013
Gulmohar Hall, India Habitat Centre, New Delhi
The lecture was delivered by Mr. Zafar Mehmood, Chairman, Punjab Public Service Commission, Lahore and Dr. Rahul Khullar, Chairman, Telecom Regulatory Authority of India; who formerly as Commerce Secretaries of Pakistan and India respectively were instrumental in providing significant momentum to the trade normalization process between India and Pakistan.
The panel comprised of Mr. Salman Bashir, High Commissioner of Pakistan to India; Dr. Isher Judge Ahluwalia, Chairperson, ICRIER and Dr. Rajat Kathuria. The lecture was also attended by Mr. Naeem Anwar, Minister of Trade, Pakistan High Commission in New Delhi, Mr. Sharat Sabharwal, India's former High Commissioner to Pakistan, and Mr. Arvind Mehta, Joint Secretary, SAARC, Government of India.
[Video]
Lecture: Normalizing India-Pakistan Trade Relations by Dr Ishrat Husain, Former Governor, State Bank of Pakistan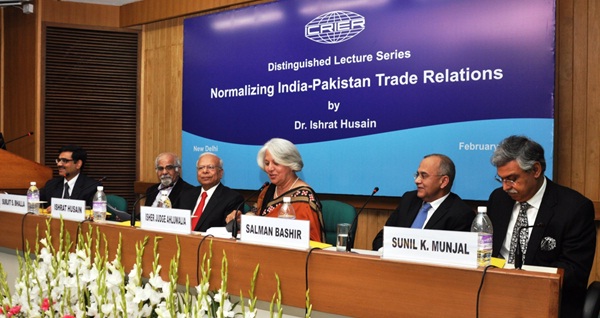 February 5, 2013
Gulmohar Hall, India Habitat Centre, New Delhi
Dr Ishrat Husain, former governor of the State Bank of Pakistan, delivered the inaugural lecture in New Delhi on February 5, 2013. The panelists at the lecture included Dr Isher Judge Ahluwalia, Chairperson, ICRIER, Mr Salman Bashir, Pakistan's High Commissioner to India, Dr Surjit Bhalla, Managing Director, Oxus Investments Private Limited, Mr Sunil Munjal, Joint Managing Director, Hero MotoCorp and Dr Rajat Kathuria, Director & CE, ICRIER.
The lecture on Normalizing India Pakistan trade was attended by Indian policymakers, businessmen, academics and journalists.
[Text]   [Video]